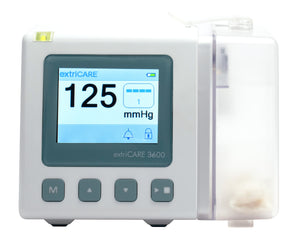 Supply Store NOW
ExtriCARE 3600 Negative Pressure Wound Vacuum Therapy NPWT Pumps - Qty 2 Pumps
Regular price
$4,988.00
$0.00
Unit price
per
Qty 2 Pumps
ExtriCARE 3600 Pump System Includes: 400cc Canister, AC Power Cord/Charger, Bed Clamp, User Manual and Carrying Case  
ExtriCARE 3600 Wound Vacuum is an innovative, high capacity medical device specifically designed for Negative Pressure Wound Vacuum Therapy which is used by medical professionals in hospitals, wound care centers and other medical facilities.
NPWT is for use on acute, chronic, traumatic, subacute and dehisced wounds, partial-thickness burns, ulcers, flaps and grafts, the extriCARE 3600 Wound Vacuum promotes healing for a wide variety of wounds. It functions through the utilization of negative pressure applied using specialized NWPT dressings.
Negative pressure wound therapy, commonly known as NPWT, is a curative and therapeutic procedure that extracts exudate by the method of suction. This technique allows a medical professional to turn a patient's open wound into a controlled closed wound. The effect can have beneficial results for a patient, such as enhanced circulation and faster rehabilitation.
As a small, lightweight portable device, a medical professional can easily and quickly transport the extriCARE 3600 Wound Vacuum from room to room in a facility. Utilizing disposable canisters, anatomically fitted Suction Dressings, this device functions well in acute and post-acute care environments
---
Share this Product
---