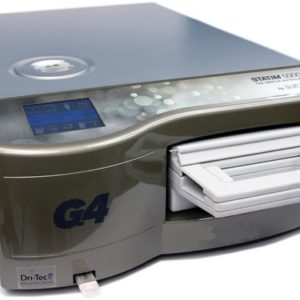 Supply Store NOW
New – 1 YR WARRANTY Scican Statim G4 2000 OEM G4-121101
Regular price
$5,988.00
$0.00
Unit price
per
SciCan's innovative G4 Technology, now WiFi enabled, automatically records and monitors every cycle 24/7 so the tedious task of manually logging cycle data can now be done automatically and error-free.
Logging accurate cycle information has never been so effortless, simple and efficient. STATIM G4 Technology detects human or mechanical error before it costs time and money.
Benefits of the G4 network:
Monitoring real-time cycle data
Instant data logging
Proactive maintenance management
Automatic system updates to your G4 machines
---
FAST.
STATIM's unmatched speed and dependability have made STATIM the world's best-selling autoclave. And its patented gentle technology has made STATIM the world's favorite.
FORWARD.
The STATIM G4 will offer you a level of interactivity never seen before. The STATIM G4, through its LCD touch screen control and STATIM Live networking capability, has been designed to provide you with unprecedented ease of use and puts the user in total control.
DOCTORS AROUND THE WORLD RELY ON STATIM.
Healthcare practitioners in over 90 countries around the world rely on STATIM to protect their patients and staff from infection – with sterilized instruments in just minutes. In 1989, SciCan transformed the industry, developing the world's first compact sterilization unit designed to meet the growing need for handpiece sterilization. Today, the STATIM still boasts superior cycle times and processes for both wrapped and unwrapped cycles. In fact, the STATIM Cassette Autoclave® sterilizes up to ten times faster than traditional 'chamber style' units. Employing a proprietary positive pressure pulse displacement technology – using saturated steam to remove air and effectively sterilize instruments between patients – the STATIM Autoclave ensures dentists always have an ample supply of instruments ready for use.
STAT

IM

'S SPEED
Reduces Instrument Investment
STATIM sterilizes handpieces and instruments for immediate use in as little as 8 minutes, reducing the number required as instruments can be processed 'just in time' or between patients.
Increases Efficiency
Fast point-of-use sterilization makes turnaround a priority, increasing efficiency and virtually eliminates instrument bottlenecks.
Gentle on Instruments
Our state-of-the-art steam technology is gentle on both solid and hollow instruments.
THE STAT

IM
 

DIFFERENCE.
Immediate Steam Generation
Unlike conventional autoclaves that need to heat an entire reservoir of water, STATIM uses only a small, specific amount of water required for each cycle. Water is introduced into a heating device referred to as a 'steam generator', rapidly heated and converted to steam in mere seconds.
Air Removal
Using PPPD technology and our patented steam injection process – air is automatically forced out of the sterilization chamber.
Cassette System
The thin stainless steel walls of STATIM's fully-removable cassette, (or sterilization chamber) allow for rapid heating and cooling of the chamber. As a result, STATIM meets the conditions for sterilization and drying in a fraction of the time required by a conventional autoclave.
Drying Technology
The STATIM 2000 and 5000 have each been designed to provide you with a complete solution: rapid sterilization balanced by rapid drying.
TOUCH. CONNECT. PROTECT. COLLECT.
Touch
A large 3.5" high-resolution touchscreen offers a vivid display of messages, current cycle information and customizable colours all with extraordinary clarity. Fully adjustable contrast levels let you optimize the screen to the lighting in your steri-centre.
Connect
Through your networked portal, you can view not only your STATIMs current operations in real time, you can also access cycle history, printing and validation information, and also sterilization records. Capable of sending emails with cycle information errors directly to your dealer, your STATIM G4 will let qualified technicians know when service is imminent.
---
Share this Product
---