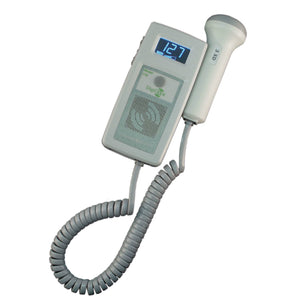 Supply Store NOW
Newman Medical – Digi-Dop II 770
Regular price
$888.00
$0.00
Unit price
per
Newman Medical Digi-Dop II 770 comes with a waterproof 2MHZ OB sensor.
The Newman Medical Model 770 Doppler has breakthrough sensitivity and size. New extended depth XD™ probes (U.S. Patent Pending) provide up to 56% increased sensitivity at shallow depths (2-5cm) where many early fetal hearts are located. Complementing the new XD probes is the state of the art Digital Optimized Processing (DOP™) of the Doppler signal.
The smaller size and smoothly contoured shape were meticulously designed to comfortably fit your hand and coat pocket. Great sound is maintained with new high power miniature speaker technology. The stainless micro-screen on the speaker lets the sound out and keeps dirt and paperclips from getting in. Large LED-backlit ultra high contrast heart rate display with autocorrelation accuracy is easily readable in dim or bright lighting and from extra wide angles. Its quality and toughness are evidenced by the full five-year factory warranty that covers the probes as well as the main unit, including both parts and labor.
---
Share this Product
---