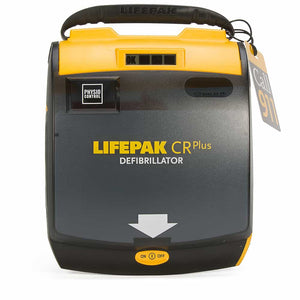 Supply Store NOW
Physio-Control LIFEPAK CR Plus AED Package
Regular price
$1,745.00
$0.00
Unit price
per
Physio-Control LIFEPAK CR Plus
Featuring the same advanced technology trusted by emergency medical professionals - yet simple to use - the LIFEPAK CR Plus automated external defibrillator (AED) is designed specifically for the first person to respond to a victim of sudden cardiac arrest (SCA). Unlike AEDs with complex prompts and limited energy for defibrillation, the fully automatic LIFEPAK CR Plus AED combines an easy two-step operation, just the right level of guidance, and the capability to escalate to 360 joules when needed.
It's never been simpler to be prepared.
The LIFEPAK CR Plus AED is easy for you to manage. The battery charger and electrodes have a synchronized replacement cycle that makes your maintenance program efficient and affordable. Of course, you hope the LIFEPAK CR Plus AED will never be needed in a lifesaving situation, but when it is, you can be confident that your staff is as ready as the AED. AED users should be trained in CPR and use of the AED. We offer a variety of training options to continually educate your response team, from onsite instruction and a LIFEPAK CR Plus AED training unit to online AED/CPR refresher training, videos, and quick reference cards.
An AED for all of us.
Chances are you're not an EMS technician. Not a surgeon or a lifeguard or a firefighter. Yet, with the right resources at hand, each of us has the power to save a human life - the life of a friend, colleague, student, or a passerby with sudden cardiac arrest. Although not everyone can be saved, studies show that early defibrillation can dramatically improve survival rates. Simple, effective, and at the ready, the LIFEPAK CR Plus AED provides that critical resource and the guidance to use it whenever necessary. It's there for you and for them.
Two steps: turning the device on and applying the electrode pads to the victim. That's all it may take to make the difference between death from sudden cardiac arrest and a better chance for survival. The fully automatic CR Plus then takes over, giving ClearVoice prompts and delivering the shock–up to an industry-leading 360 joules–without anyone pushing a button. A recent study shows that safety is not compromised when untrained rescuers use a fully automatic AED compared to a semi-automatic AED.
Familiar. Compatible. Trusted.
Professional responders have chosen high quality, rigorously tested solutions from Physio-Control for decades. For today's EMS units and fire departments, standardizing on LIFEPAK products from first-on-scene through handoff to professional care helps minimize delays in treatment, but it also ensures continuous collection of patient data that local systems can easily download post-event.
Why 360 joules?
A joule (J) is a unit of energy used as the measurement of shock strength provided by an AED. An initial shock from the LIFEPAK CR Plus AED is delivered at 200 joules (200J), which has been shown to be effective at defibrillating the heart of a majority of sudden cardiac arrest victims. However, some patients are more difficult to defibrillate than others, and an ineffective shock can leave them in VF longer and increase costly interruptions in CPR. Physio-Control only offers AEDs with a full range of energy, with default escalating settings of 200J, 300J, and 360J. A recent study has shown a statistically significant benefit for higher escalating shocks compared to fixed lower-energy shocks in patients with VF who required more than one defibrillation shock.3 In addition, the American Heart Association has provided guidance on the importance of coordinating good CPR with defibrillation to minimize interruptions in chest compressions. Simply put, we believe the capacity for 360 joules gives patients a better opportunity for a better outcome.
---
Share this Product
---